ABOUT INTERNATIONAL FIRE PROTECTION
The INSPECTION team consists of highly trained field employees who provide weekly, monthly, bi-annually, quarterly or yearly inspections for all fire protection, suppression, alarm, and detection systems. Helping you keep your systems in compliance with the requirements of manufacturers and the national fire codes.
The SERVICE group consists of field employees focused on implementing solutions to our client's needs in repairs, renovations, and modifications to existing systems 24 hours a day.
The CONTRACTS group consists of employees specializing in large jobs involving new installations and major renovations.
Our Mission, Vision, and Values
Mission: We provide the best life safety service to our customers through quality, integrity, honesty, and customer satisfaction.
Vision: Develop, Maintain and Encourage Professionalism throughout International Fire Protection, Inc.
Values: Provide a Safe & Healthy working environment for our employees to grow professionally and individually. "Zero accidents is our unwavering goal – People's Lives depend on it"
IFP Commitment to Safety
Concern for the safety of our employees is our greatest responsibility along with safeguarding assets. International Fire Protection commits to providing a safe working environment, free of hazards and to provide adequate safety devices and all required training to all employees. It's our goal to create "safety awareness" among our employees so that each individual understands that he or she has the ultimate responsibility to work safely.
Further, it shall be the policy of our company to:
Comply with all federal, state, and/or local regulations governing the workplace
Take expedient action to correct or isolate unsafe conditions
Promote safety awareness
Hold each employee accountable for his or her individual safety
Encourage our employees to inform their supervisors immediately when unsafe conditions are present without fear of reprisal.
Meet the President:
Kamran Malek, President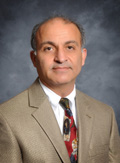 Prior to IFP, Kamran Malek was the design manager for three fire protection contractors from 1981 to 1985. In 1985, Mr. Malek started and managed a branch office for Grinnell Fire Protection, Inc.
In 1990, Mr. Malek became the president and co-founding member of International Fire Protection, along with partner Ronnie Davidson. During his years of service, IFP received numerous acknowledgments including Small Business of the Year award in 2000.
Mr. Malek earned a Bachelor of Science degree from Tennessee Technological University. He is a fire protection engineer technician and license holder in 10 states.