International Fire Protection's Sunrise, FL office is strategically located to serve the fire protection needs of Southern Florida: Miami, Ft. Lauderdale, and West Palm Beach Areas. Our team of highly skilled professionals is dedicated to ensuring the safety and protection of your property from the risks of fire. With a service area ranging from the east coast to the west coast of South Florida, we have established ourselves as a trusted full-service provider of comprehensive South Florida fire protection solutions.
At International Fire Protection, we understand the unique challenges and regulations associated with fire protection in Southern Florida. Our knowledgeable experts stay up-to-date with local codes and standards, ensuring that our services comply with all requirements. We offer a wide range of fire protection services tailored to meet the specific needs of our clients.
Our Miami fire protection services encompass the design, installation, inspection, testing, and maintenance of fire protection systems. Whether you require fire sprinkler systems, fire alarms, special hazard suppression systems, or emergency lighting, our team has the expertise and experience to deliver top-quality solutions. We work with residential, commercial, industrial, and institutional clients, offering customized fire protection solutions for buildings of all sizes and types.
Fire Sprinkler Installations, Inspections and Repairs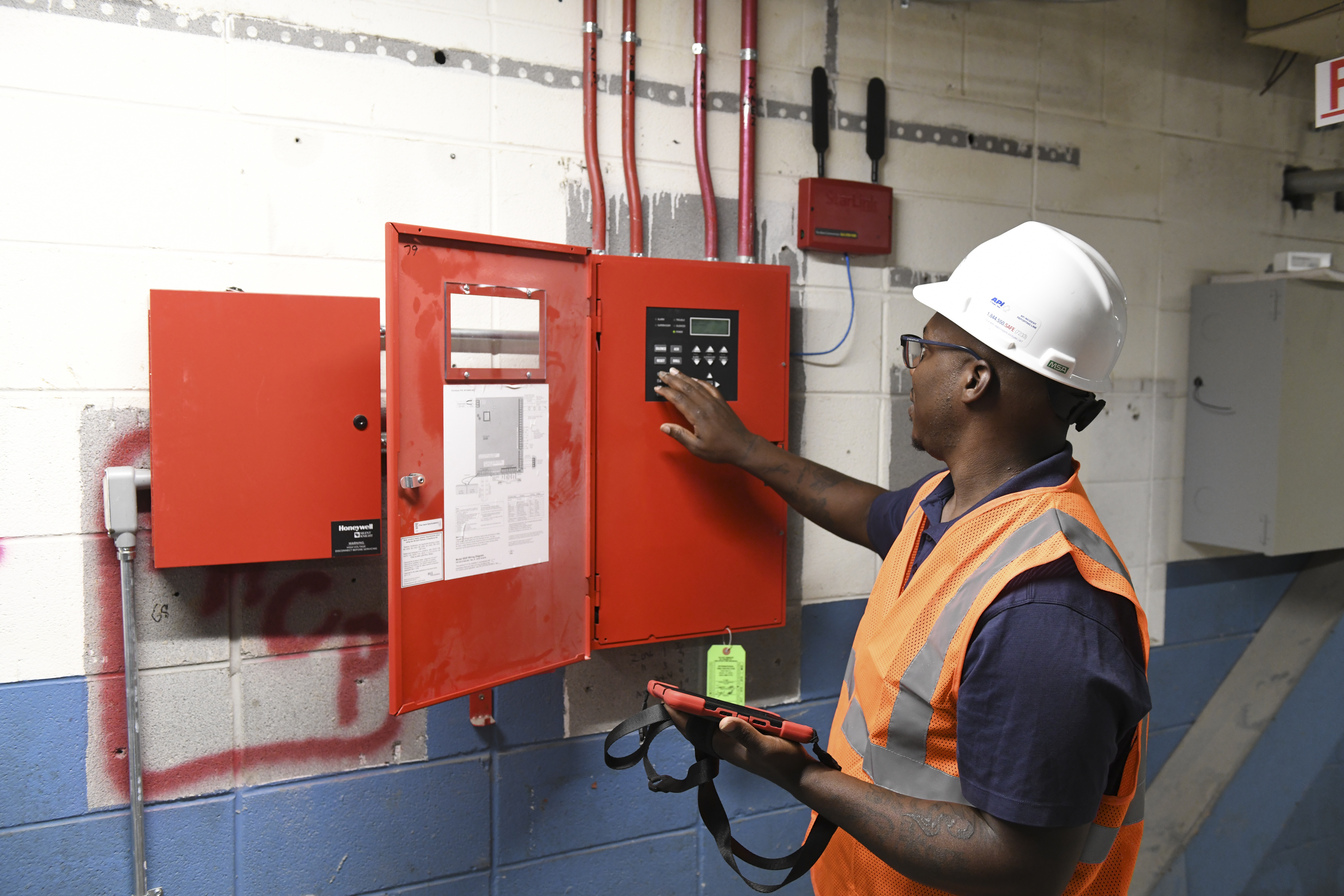 When it comes to safeguarding your people and property from fires, having working fire sprinkler systems is one of the most effective measures you can take. At IFP's Miami, FL fire protection location, we have a dedicated team of experts who specialize in the installation and maintenance of fire sprinkler systems. With our comprehensive fire protection services, we help ensure that your sprinkler systems are not only functional but also fully compliant with local fire safety codes and regulations.
Our team understands the critical role that fire protection systems play in the protection of your property and the safety of your people. We have the knowledge and expertise to design and install custom fire protection systems in Miami, tailored to the specific needs of your property. Whether you require fire protection systems for residential, commercial, industrial, or institutional buildings, we have the capability to meet your requirements.
In addition to installation, we offer ongoing inspections to ensure that your South Florida fire protection systems remain in optimal working condition. Regular inspections are crucial to identifying any potential issues or malfunctions that could compromise the performance of your system. Our team follows a comprehensive checklist to thoroughly examine all components of the sprinkler system, including pipes, valves, sprinkler heads, and control panels. By conducting these inspections, we can identify and address any problems promptly, minimizing the risk of system failures. Our team can even provide corrosion management as well as inspect and service fire pumps and backflow preventers.
Fire Suppression System Services
When it comes to South Florida fire protection, in certain applications, water-based fire protection systems may not always be suitable. In situations where water-sensitive environments or highly flammable liquids are involved, alternative fire suppression systems are often required. Clean agent systems may be installed in water sensitive environments, while foam suppression systems are often utilized for applications with highly flammable liquids.
As mentioned, clean agent systems offer a reliable and effective solution for fire suppression in water-sensitive areas. These systems utilize environmentally friendly gaseous agents to suppress fires by reducing oxygen levels and interrupting the chemical reaction necessary for combustion. Clean agent systems are commonly used in data centers, server rooms, museums, art galleries, and other spaces where water damage could be detrimental. Our team is well-versed in the installation and maintenance of clean agent systems, all systems are designed and implemented to meet the specific requirements of your facility.
In applications involving highly flammable liquids, foam suppression systems are often the preferred choice. Foam systems are designed to extinguish fires by creating a barrier between the fuel source and the oxygen, suppressing the flames, and preventing re-ignition. These systems are commonly used in areas such as fuel storage facilities, chemical processing plants, and industrial settings where the presence of flammable liquids poses a significant fire risk. Our experts have extensive experience working with foam suppression systems, ensuring their proper installation, regular inspection, and efficient servicing to maintain optimal performance.
At IFP, our team of professionals possess the necessary knowledge and expertise to handle both clean agent and foam fire suppression systems. We specialize in the installation, inspection, and servicing of fire suppression systems in South Florida, catering to a wide range of needs and ensuring the highest level of safety for your specific environment.
Fire Alarm Services & Monitoring
We understand the crucial role that fire alarm and detection systems play in the safety and protection of South Florida buildings. IFP Miami designs, installs, inspects, tests and repairs fire alarm and detection systems for South Florida buildings.
Fire alarm systems are a critical component of life safety and the prevention of fires in southern Florida, because they provide early warning of fires to allow building occupants to safely exit. To ensure reliability, our technicians provide inspections and testing of alarm systems in accordance with NFPA (National Fire Protection Association) standards. This includes checking all components of the system, such as smoke detectors, control panels, audible and visual notification devices, and emergency communication systems, to verify their functionality and responsiveness.
Beyond inspections and testing, we also provide prompt and efficient repair services for fire alarm systems. Our technicians have the expertise to diagnose and resolve any issues or malfunctions that may arise, ensuring that your fire alarm system remains operational and effective.
In addition, we also offer alarm monitoring services for 24-hour protection of your facility. Fire alarm services and monitoring are essential components of a comprehensive Miami fire protection system. Fire alarm monitoring services provide continuous surveillance and immediate response in the event of alarm activations. Trained professionals monitor the system 24/7, ensuring that any alarms are detected and addressed promptly. When an alarm is triggered, monitoring personnel can quickly alert the appropriate authorities and initiate the appropriate emergency response protocols. This rapid response helps minimize the potential impact of a fire incident.
In addition to alarm services, advanced fire alarm systems can integrate mass notification systems. Mass notification systems from IFP provide clear and concise instructions to building occupants during emergencies, guiding them on how to safely evacuate or take appropriate actions. Mass notification systems enhance communication and improve the overall emergency response within a facility.
Overall, fire alarm services and monitoring play a critical role in protecting lives and property. By investing in professional fire alarm services and continuous monitoring, businesses and individuals can have peace of mind, knowing that they have a reliable early warning system in place to safeguard against the devastating effects of fires.
Full-Service South Florida Fire Protection Provider
As a full-service fire protection provider in South Florida, IFP is committed to delivering comprehensive solutions to safeguard lives and property from the threat of fires. Our range of services covers all aspects of fire protection, including fire sprinkler systems, fire suppression systems, fire alarm services, and monitoring.
International Fire Protection's office building in Sunrise, FL can provide fire protection services for buildings in Miami, Fort Lauderdale, Boca Raton, Hollywood, West Palm Beach, Naples, Marco Island, Cape Coral, Fort Myers and the surrounding areas. Some of the applications we work with include:
Data centers
Universities
Property management facilities
Healthcare facilities
Banking institutions
Municipal Buildings
When you choose International Fire Protection, you benefit from our commitment to excellence, reliability, and customer satisfaction. We prioritize safety above all else, and our team is trained to handle fire protection projects with the utmost professionalism and attention to detail. We use industry-leading technologies and equipment to ensure the highest level of performance and reliability for your South Florida fire protection systems.
Additionally, we understand the importance of timely and responsive service. In the event of an emergency or even for routine service, our dedicated team is available 24/7 to address your Miami fire protection needs promptly. We aim to provide peace of mind and confidence in your fire safety measures.
Partnering with International Fire Protection means you have a reliable ally in safeguarding your property and the lives of those within it. With our comprehensive range of fire protection services and our commitment to exceptional service, we are fully equipped to meet all your fire protection needs throughout Southern Florida.
If you are interested in learning more about the services we can provide in the Miami, FL area, contact International Fire Protection today!